Fort DeSoto Ferry to Shell Key Preserve
A family run ferry in this area since 1928, chosen by the county in 2002 to be the ONLY official ferry service to and from Egmont Key &  Shell Key Preserve. You begin and end your adventure at the historic Fort De Soto Park, a military outpost constructed during the Spanish American War, listed in the "National Register of Historic Places." Explore the fort still equipped with 12-inch rifled mortars and two British breech-loading 6-inch Armstrong rapid-fire guns. The park has been rated the  Number One Beach in the entire United States.
Pinellas Counties largest Park includes 1,136 acres made up of five interconnected islands. Travel to an uninhabited barrier island with white sand, warm water, and shelling galore is yours for the day. This trip is one of a kind and unique to this area.
 Group rates quoted are for regularly scheduled daily cruises. Open to the general public. All Cruises are subject to availability, weather and minimum number of fares. Gratuity of 15% suggested on groups of 10 or more.
Book Online Now!
Tour Calendar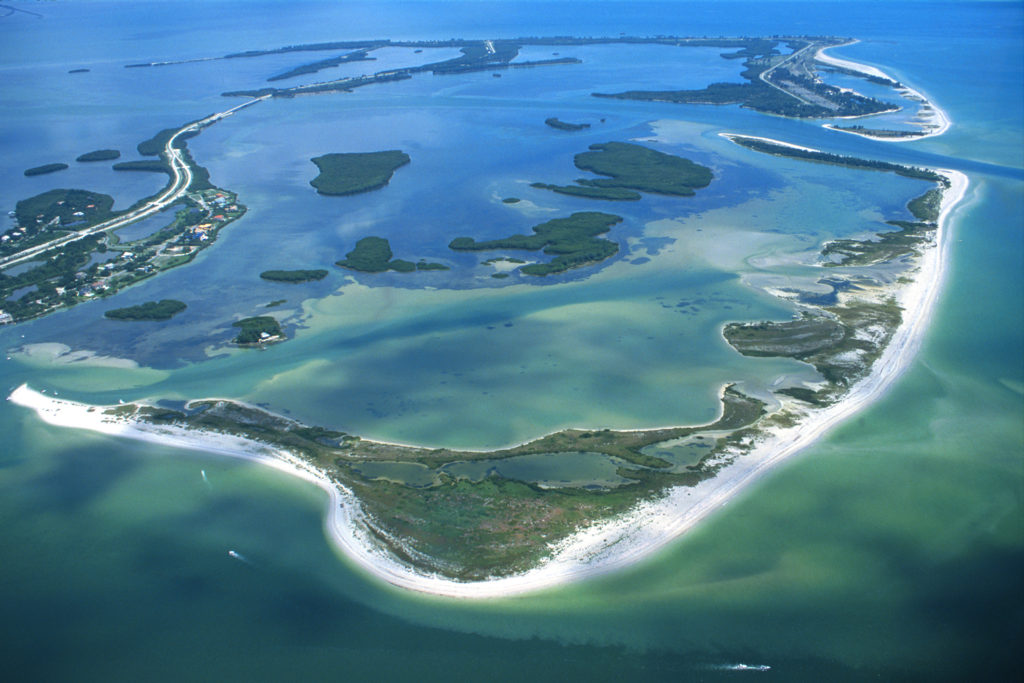 In the early 1990's, the sandbar just south of Pass-a-Grill Beach known as Shell Island joined with it's neighboring island to the south to form one contiguous island.
In 2000, Pinellas County acquired a lease from the State of Florida to establish Shell Key (a.k.a. Shell Island) as a Wildlife Preserve. The state lease includes all the submerged areas spanning to the Pinellas Bayway. At that time, new rules regarding alcohol and public use were enacted to comply with the requirements of the state lease.
In 2007, the plan came up for it's scheduled review and update. After several months of public debate and input from various interests, County staff began formulating proposals to restrict camping, alcohol and pets from Shell Key.
Beginning in April, 2007 shellkey.org offered the idea of camping by permit as an alternative to the proposed camping ban.
After consulting with other campers, environmental groups and county staff, we began to receive support for our ideas from  representatives of environmental groups as well as County staff in the Environmental Lands division.  Eventually, our idea to preserve camping under a permit system was included in the 2007 SK Management Plan.
** see the original plan to find practical solutions to the challenge of balancing public use with environmental protection.
By October of 2007, County staff formally included camping by permit into the draft plan. In December, The County Commission formally approved the plan.
-information collected from ShellKey.org

Camping Rules & Guidelines
• Camping rules are clearly stated on the permit and are listed below. Campers must abide by these rules at all times. Those who choose to violate the Preserve's rules are at risk of being fined by the Pinellas County Sheriff's Office. Each permittee must indicate that they, and the members of their party, will comply with all rules.
• A "leave no trace" camping ethic is expected at all times from visitors to the Preserve. Access to Shell Key is by watercraft only.
• Alcohol, pets, littering, nudity, fireworks and excessive noise are prohibited at all times in the Preserve.
• Removal of live animals from the beach (sea turtles, sand dollars, conchs, starfish, fiddler crabs, etc.) is prohibited.
• Camping is allowed only in the southern Public Use Area. Within this designated area, there are no defined campsites so visitors are free to select a camping location of their choice. All overnight camping requires a permit issued by the County.
• There are no facilities at Shell Key Preserve, and campers are required to bring, use, and remove portable toilets.
• Duration of stay cannot exceed 14 days.
• Permittee is responsible for everyone in their party.
• Permittee must possess photo identification and a valid, signed camping permit while camping.
• Campfires and other open fires are permitted in the designated camping area only from October 1 through April 30. No camp fires allowed from May 1 through September 30. (Due to turtle nesting, $118 fine imposed)
• Do not place glass, cans, nails, and other debris in campfires.
• Grills do not fall under the definition of open fires and are allowed in all public use areas.
• Do not remove or disturb any vegetation.
• Campers must obey all Preserve rules.
• Be considerate of other campers. To report rule violations, contact the Pinellas County Sheriff's Office at (727) 582-6200.
Camping Checklist
Sunscreen, First Aid & bug repellent.
First Aid kit should include
Water and Food
Extra sunglasses, towels and a hat.
Dress for worst case weather
Fully charged Cell Phone
Chairs, tent and bedding.
Toilet Paper, garbage bags & portable toilet.
Sandals or water shoes (see sandspurs!)
PROHIBITED 
– Alcoholic beverages
– Pets
– Nudity
– Use of gasoline-powered generators Littering
– Fireworks
– Camping in other than approved sites Removing, damaging or defacing trees, shrubs, or any other plants
– Removal of any live animals from the beach (sea turtles, sand dollars, conchs, starfish, fiddler crabs, etc.)
– Feeding or harrassing wildlife
– Excessive noise is prohibited at all times in the Preserve.
– No camp fires allowed from May 1 through September 30. (Due to turtle nesting, $118 fine imposed)

 Beautiful beaches

 Bird watching (designated as one of the state's most important areas for shorebird nesting and wintering and it serves as an important study area for these species.)

 Campgrounds

 Only Accessible By Boat
Please Note: no restrooms available, preserve is accessible only by boat.