Fishing report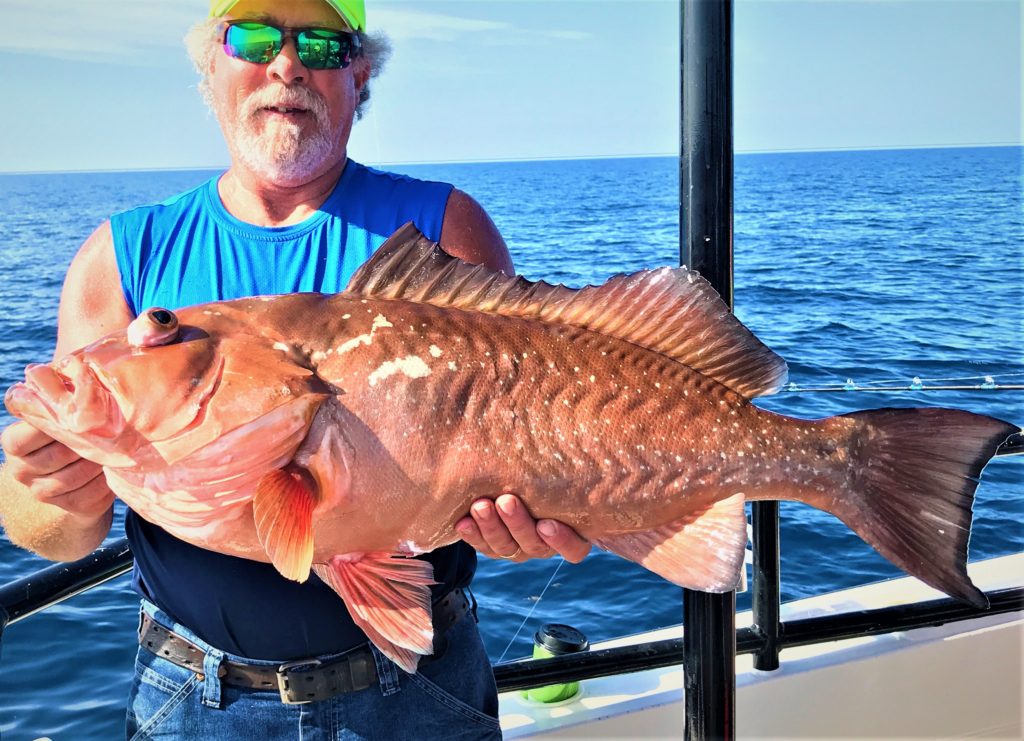 Inshore- the water inside Johns Pass has been super clear lately inside Johns Pass. We are seeing lots of the sheepshead cruising the seawalls mixed in with plentiful snook and mangrove snapper. The pass is definitely teaming with fish and the water is beautiful. On the beaches there's been some cobia spotted, tarpon moving around and also the pompano and whiting are biting from the jetty too. The Tarpon are thicker in blinds pass and along south St. Pete beach, but we are starting to see them roll through Johns Pass early morning. Those 'hill tides' are flushing crabs and have the tarpon feeding well, but this year is extra sharky and there's some monster hammerheads and big bulls cruising chasing the schools of fish and that doesn't make it easy to get em chewing well. There's still mackerel hanging around the area too, which is surprising how many were seeing with the water so hot but it makes inshore and pass fishing definitely more interesting. Sheepshead around and biting well on the fiddlers is also a bit interesting at the high numbers being caught for how hot it's getting.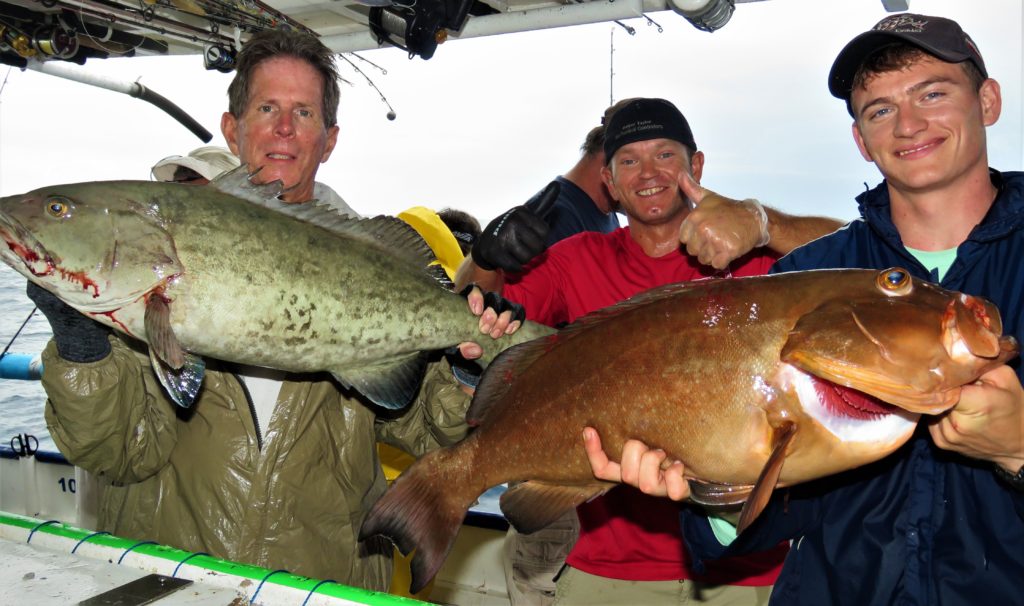 Near shore- The water is super clear near shore as well nearly every day we have 40-50ft visibility and can see the bottom and even fish on the bottom during our half day fishing trips which is a super cool sight. The clarity of the water is really spectacular to say the least, revealing the plentiful mackerel near shore. The mangrove snapper are very easily chummed up to the surface right now due to the clearer waters but that also makes it VERY difficult to catch them as they are super smart and very leader shy. The easiest way to trick them into feeding is to leave your rod in the rod holder and use 15-20lb line and pull line out the top of the rod and free line a chunk of threadfin in with the chum your tossing out and because you pulled the line out of the top there's no friction of the line going through the guides so the bait chunk floats to bottom naturally with the chum and they tend to fall for this trick! Were also seeing the hogfish still near shore especially on the lighter tackle with live shrimp or live fiddlers.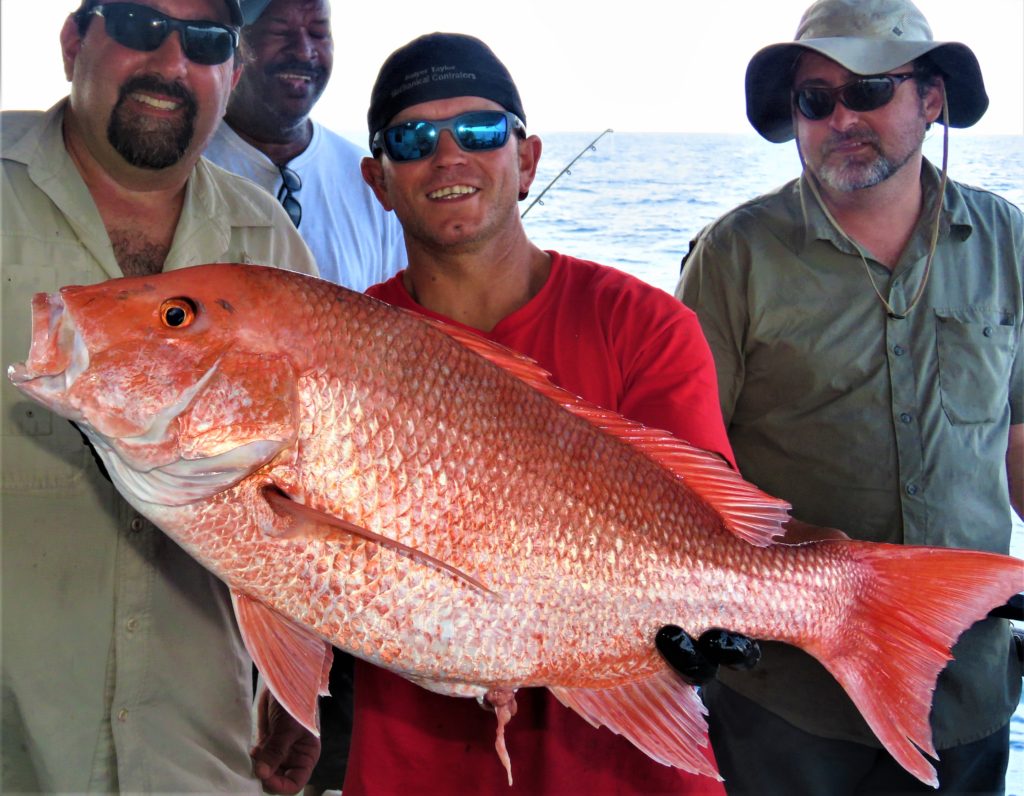 Offshore- The bite offshore is absolutely off the charts and the weather has been spectacular with less than 10 knot winds and less than one foot wave heights the weather is pristine and the fishing is as hot as the weather. The mangrove snapper bite has finally picked up quite a bit and the red grouper bite has heated back up well too. Gag grouper are trickling in and biting well for how hot the weather is, typically during the summer the bite is slow or terrible but were seeing averages of 15-25 gags on most of our 39 hour trips and for the summer that is stellar. The gags typically bite best in months ending in ER as the waters cool they get more aggressive and come closer to shore. The best bite of fish has been beyond 180-200 foot of water on our long range private charter or 39 hour fishing trips. We are also seeing lots of scamp grouper, yellowtail, vermilions and more! We caught two wahoo lately so the pelagics are starting to bite better, some tuna and a handful of kingfish but the trolling has been slow lately overall catching most of our pelagics while flat lining most often.
Want to watch Capt Dylan Hubbard's Daily video reports? Check out the Hubbard's Marina YouTube channel and don't forget to SUBSCRIBE! – Hubbard's Marina daily fishing & boating report
Captain Jack's dolphin corner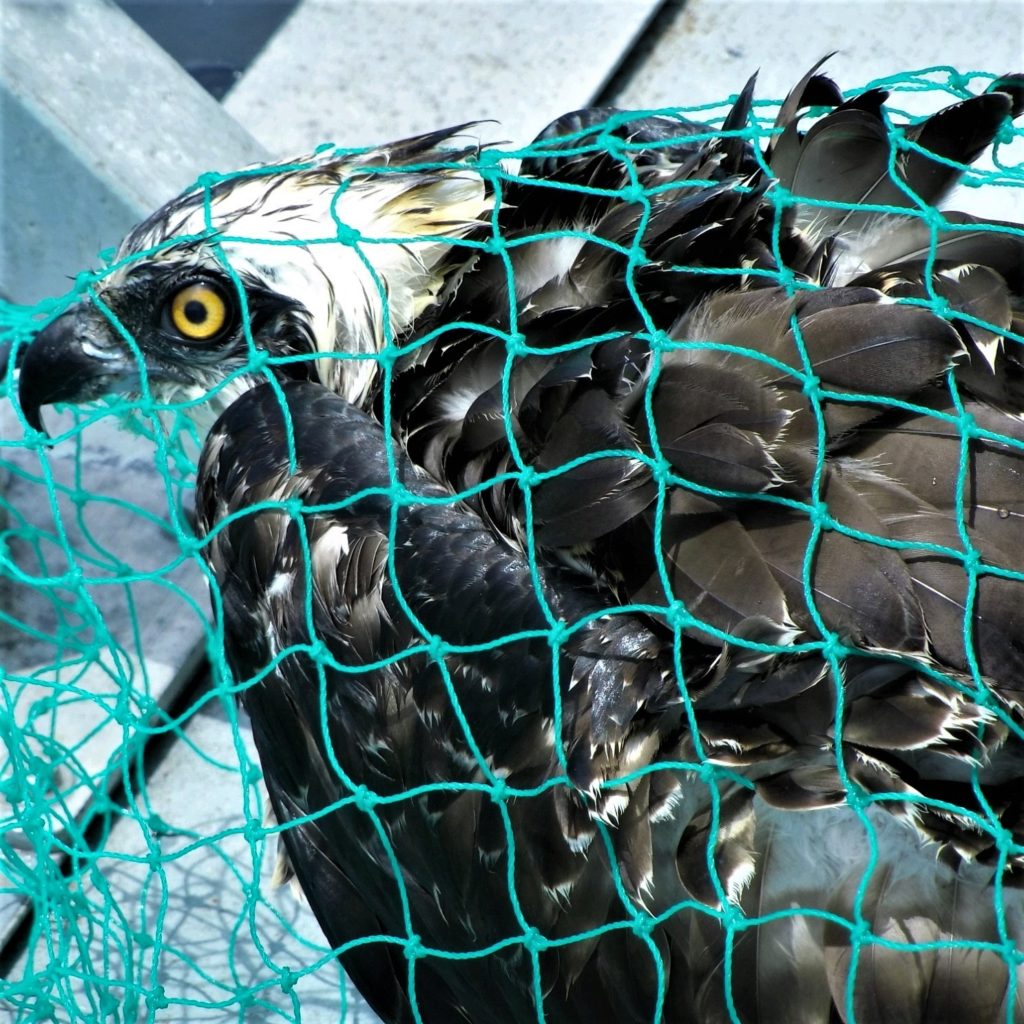 Osprey nests are very prolific right now, we had a nesting osprey along the Madeira beach water taxi route we were checking daily and this past week as we rode by we discovered something that caused us to jump into a rescue mode! We came up to find that one of the juvenile osprey had fallen out of the nest into the water and was drowning. The quick thinking Capt and crew of the water taxi were able to stick a scrub brush into the water to allow the osprey a chance to cling to it while they lifted it out of the water onto the front of the boat. Tired from struggling for its life the bird of prey simply sat idle on the boat while the crew were able to secure it with a dip net on board we use to collect trash. They quickly contacted the office who contacted the seabird sanctuary and they bee lined it back to the dock where we easily secured the tired wet osprey in one of our injured bird carriers to be picked up shortly thereafter by one of the seabird sanctuary representatives. This was one unique seabird rescue as we often help pelicans, cormorants, anhinga, seagulls, and others but never has we rescued such an awesome bird like an osprey! The talons on this thing and its beak were very awe inspiring, check out the on the dock video – https://youtu.be/c00mb78EFA0 or check out the Hubbard's Marina Facebook for more photos!
The waters in the back bays has been gorgeous lately! The weather has been great for dolphin watching nature cruise and eco tours because the dolphins are playful, birds are roosting, and waters are super clear making dolphin watching easy and fun! Plus, lots of manatees and sea turtles are around right now too. For more info on our guaranteed dolphin sightings tour check out this informational link with some great Madeira beach dolphin tours info – https://hubbardsmarina.com/dolphin-watching-cruises/
This past week we are spotting lots of the sea turtles on our dolphin watching tours, shell key and Egmont key ferry trips, and the 3 hour shelling trip along the beaches. These turtles are all nesting this time of year along the beautiful gulf beaches so be careful when walking the shorelines to not disturb any nests. We are spotting the large turtles often offshore too while fishing.
Hubbard's Marina Sea Adventures, Tampa bay ferry and taxi, and the Madeira beach water taxi are all now proudly power by Honda Marine! If you come visit us for a dolphin tour, sunset cruise, Egmont key island trip, snorkeling, shelling, water taxi ride or any type of ferry or pleasure cruise trip then you will be riding a boat powered by Honda Marine! These new motors look great, are super quiet and are great on fuel economy! It was tough to get four boats re-powered with new engines but it was well worth the change and were very happy! Hope you get a chance to see these brand new super cool engines at work on board one of our pleasure cruise and ferry boats! To learn more about Honda Marine engines for your boat, check out their website: https://marine.honda.com/ they have the best warranty in the industry right now, you get a full 5 years and you just can't beat that!
Tampa bay ferry News
Ready for a great way to see the area and relax on the water? You would LOVE the Tampa bay ferry by Hubbard's Marina we have the Madeira beach water taxi service, a shell key island ferry, Egmont key island ferry and MORE to come as well! You don't want to miss a great day of fun in the sun shelling, snorkeling, or cruising the bay bays in style with us at Tampa Bay ferry.
The Madeira beach water taxi by Tampa bay ferry & Hubbard's marina is currently running 7 days a week and we have tons of pick up and drop off locations around Madeira beach, Treasure Island and western St Pete. If you want a way to avoid the beach traffic and parking Fees Park FREE at abc marina and catch the ferry or Jungle Prada and hop on the ferry there. Check out this like for our Madeira beach water taxi schedule by Tampa bay ferry – http://tampabayferry.com/madeira-beach-water-taxi/route-and-schedule/
Don't forget to check out the BRAND NEW shell key ferry from Fort De Soto County Park out to the beautiful shell key preserve! This is a great way to see the island, go shelling and enjoy a day on the water with a flexible schedule. For more info on this new ferry route check out this link to the Tampa bay ferry shell key page – http://tampabayferry.com/shell-key-ferry/route-and-schedule/
The Egmont key ferry is running daily as well with multiple rides out to the island from Fort De Soto's bay pier. Tuesday, Thursday and Saturday there's an afternoon ferry option too instead of just mid-morning. Check out the website for ferry prices and times. Plus, while on the island they offer a snorkeling trip too!
https://hubbardsmarina.com/egmont-key-ferry-cruise/
Upcoming up at Hubbard's Marina
NEW TRIPS ADDED TO THE SCHEDULE: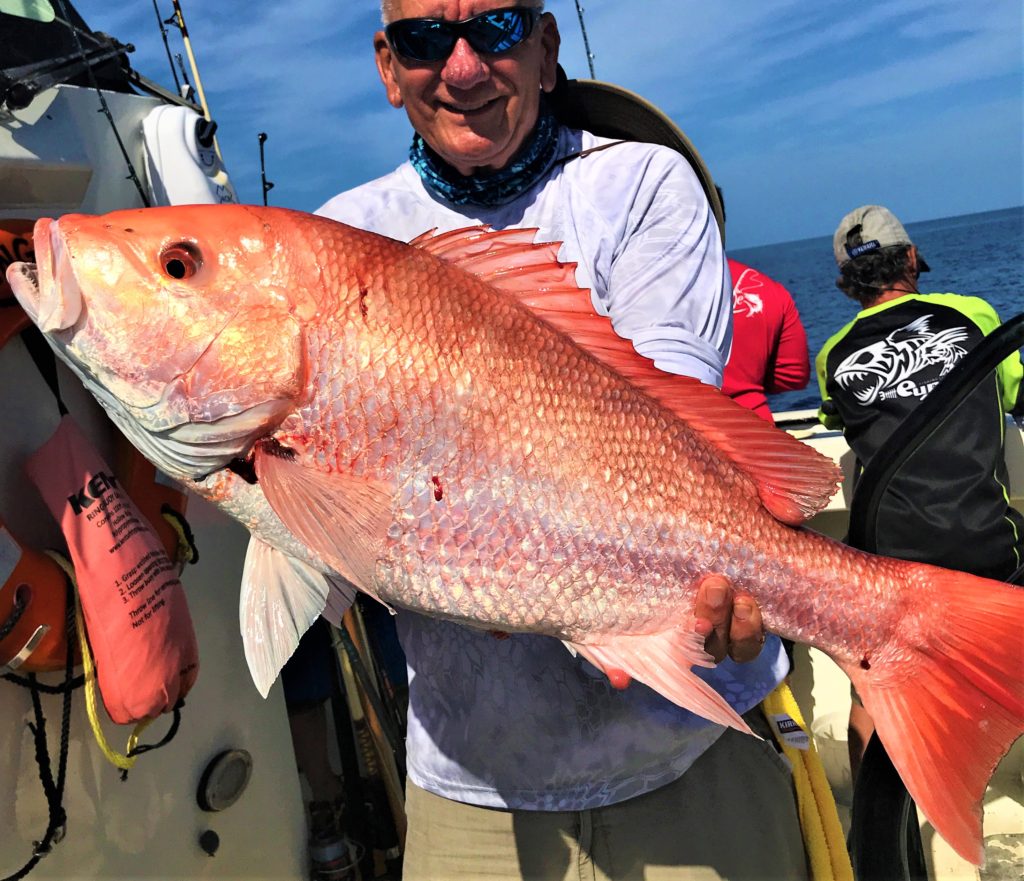 ->Want to join us for a 39 hour long range overnight fishing trip at Hubbard's Marina? We have ADDED two new 39 hour dates for the red snapper season. The FIRST newly added trip is Sunday June 17th and then we added a Second newly added trip Sunday July 8th! Both of these trips are 39 hour long range adventures with 20 hours of fishing time 70-100 miles from shore and they offer a two day bag limit and tons of trolling time too! Here's more on our special 39 hour deep sea fishing trips – https://hubbardsmarina.com/39hr-overnight-fishing-trip/
->Want to join us for a 12 hour extreme trip aboard the Flying HUB 2 for a private charter experience at the price of a party boat trip? This special 'split charter' style trip has nearly sold out for all of June already and will most likely sell out for the remaining 21 days in July where red snapper is still open. Due to this, we are adding FOUR more trips to our schedule June 25th, June 26th, July 9th and July 16th so call us NOW to book a trip today. Call now as these trips will fill very quickly, as they offer 7-8 hours fishing time 70-100 miles from shore for tons of fishing time on this one of a kind private charter fishing boat!
Want to learn more about near shore and/or offshore fishing? Check out the Weekly fishing conversation or seminar by Capt Dylan Hubbard LIVE on the Hubbard's Marina Facebook page! We also then upload this video to the Hubbard's Marina YouTube page shortly after the live video is over. This is weekly on Sunday nights from 8:30pm until 9:30pm, check out the event page and PLEASE LIKE AND SHARE the event if you have a Facebook page, and invite your friends as well! https://www.facebook.com/events/249881722421418/
Once we fill the Flying HUB 2 schedule up for Red snapper we will still have the Flying HUB 1 for go fast Deep water extreme trips available for private charters to any group of 1-6 people. Keep in mind we have just poured time, energy and quite a bit of funds into the Flying HUB 1 to completely rebuild the engine room, power plants and drives and much of the boat to make it an even more bad to the bone fishing machine complete with racing components and racing drives. To check out more about the Flying HUB 1 and what type of private charters you can book inside Johns Pass at Hubbard's Marina, check out this page and click the Flying HUB 1 – https://hubbardsmarina.com/private-charters/
Amberjack season is closed now, remember Amberjack will be open May, August, September and October. Also, Triggerfish are closed June and July as well with Amberjack.
Red snapper season has been finalized if you haven't already seen the announcement on our Facebook page, there's a private recreational season and for hire recreational season. When fishing at Hubbard's Marina you will want to pay attention to the 51 day for hire recreational season starting June first and running through July 22nd at 12:01am making July 21st the last day to land your red snapper with us at Hubbard's Marina if you are confused or questioning the red snapper season at all check out this video Capt Dylan Hubbard made to explain the ins and outs of the season – https://www.youtube.com/watch?v=jAb9Yj3tr_A
Regular's club
If you haven't signed up for the 2018 regular's club yet, call today as signups will be closing soon for the remainder of the 2018 year. Also, if you were a member and haven't renewed you don't have much time before you lose seniority and have to pay the first time signup fee when you decide to finally renew.
Captains Mark and Dylan Hubbard
Vice president and Regular's club manager Hubbard's Marina
(727)393-1947 ext 306
Preferred partner spotlight
Liberte Management group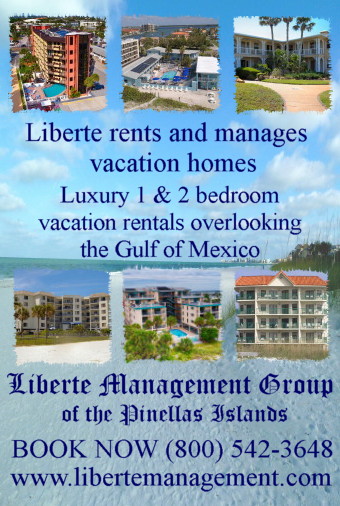 Have you booked your summer vacation yet? There is still availability left but it is going fast! Please book now at one of our beautiful beach front properties and don't forget to ask us about our summer specials. 727-360-2006 or 800-542-3648