Hubbard's Marina Fishing Report 12-14-18
Fishing report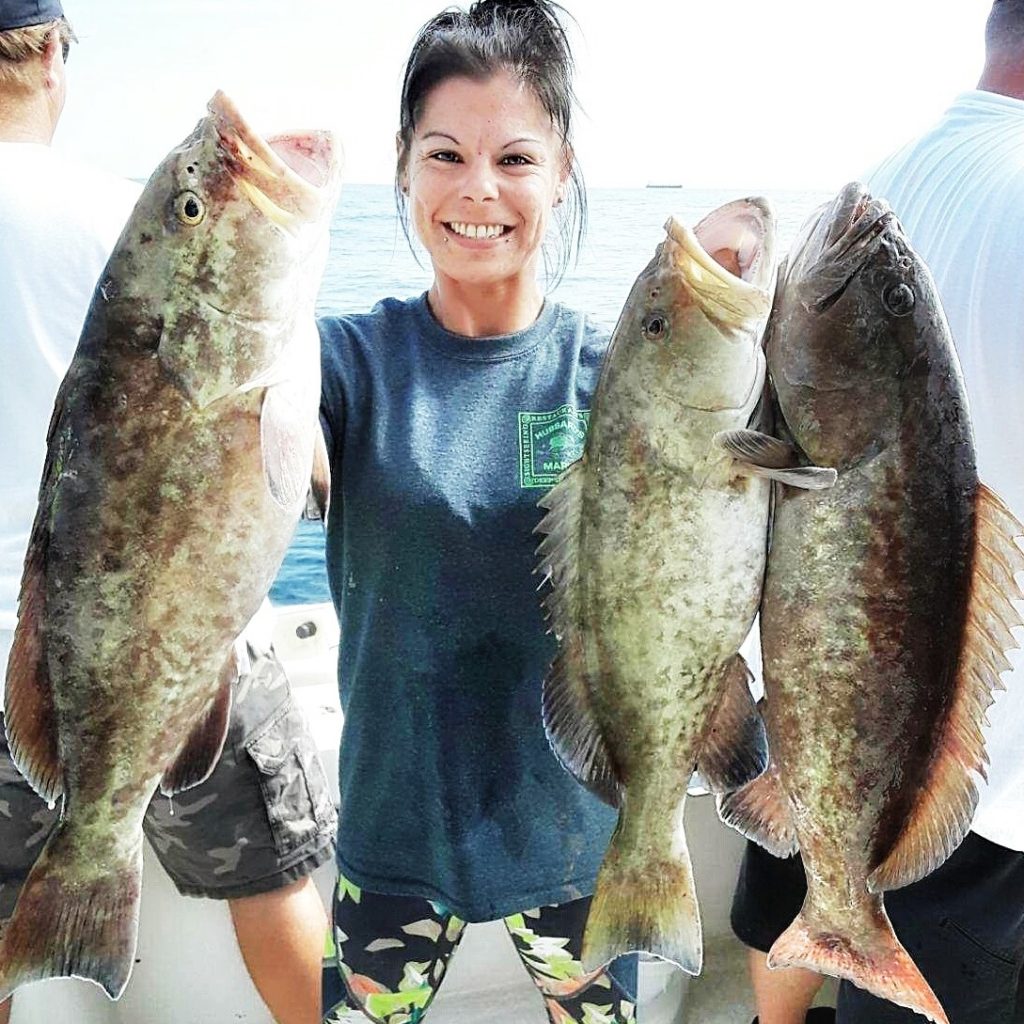 Inshore– The weather this week has been a little turbulent to say the least, but the sheepshead don't seem to care if anything they seem to bite better when the weather gets a little funky. Also, the drum seem to enjoy the same weather patterns. The end of this past week the waters finally cleared up a bit and calmed down and the backside of the front had the snook excited. There were some large snook caught around the back bays of Johns Pass this week on free lined large live shrimp. Plus, the cooler waters have brought the grouper inshore and many of the local bridges and jetties can hold some decent gags some areas even holder keeper sized gags. The free lined pinfish, a large flairhawk or a big plastic grub on a bigger jighead seems to work very well on the gag grouper inshore. Plus, there's a lot of people trolling for the gags around the skyway channel. You can do this on one of our private charters, or try it yourself with a rapala xrap magnum 30 and 50-60lb braided line and a 50-60lb floro leader of 6-8ft trolling around 3-5kts seems to work best just skipping the lure over the rocky edges of the Egmont channel or near shore rock piles along the beaches. The hard bottom just west of blinds pass is one of my favorite grouper trolling areas closer to Johns Pass.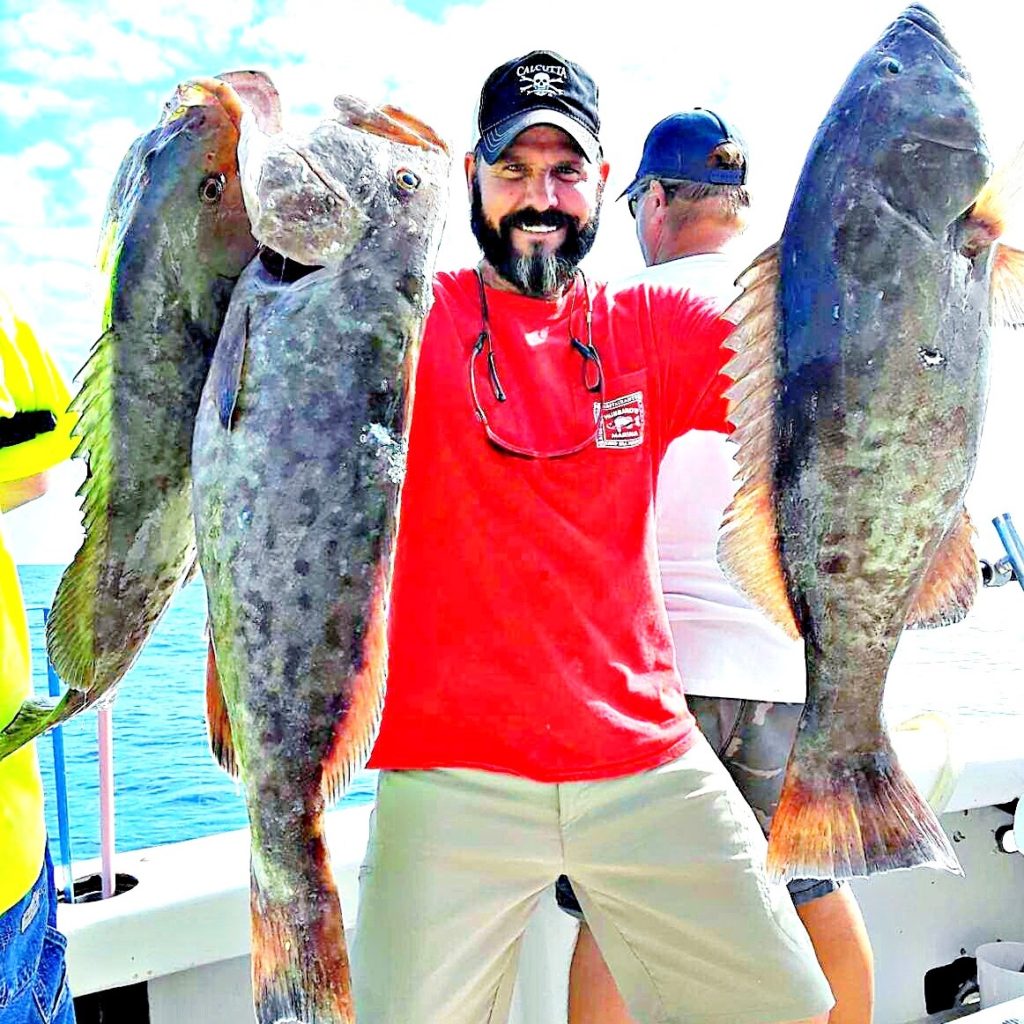 Near shore– Gag grouper are thick near shore right now anywhere from 50-80ft of water is loaded down with hungry gag grouper. The private fishing charters aboard any of our boats are doing best focusing on the gag grouper but the 10 hour all day on the party boat gives you a decent shot for a keeper gag too. Lately 80-100lb leaders and 7ot circle hooks and double threadfins or a nice live bait are the hot setups for keeper grouper.  The hogfish bite has picked up quite a bit as well, and they will bite well all the way through the spring of next year. There's a few nice red grouper mixed in with the near shore gags but they are much less aggressive than the hungry gags this time of year. Make sure to double and triple check the weather before planning your trip offshore or near shore this time of year. Your safety and success on the water is totally weather dependent this time of year and it seems we get a cold front then high pressure then cold front nonstop lately so it's tough to find the perfect weather window. Keep in mind, we do daily LIVE weather update videos to tell you what the best days to fish are near shore on the Hubbard's Marina Facebook page and they are posted to our fishing tips page each morning too – https://hubbardsmarina.com/fishing-tips/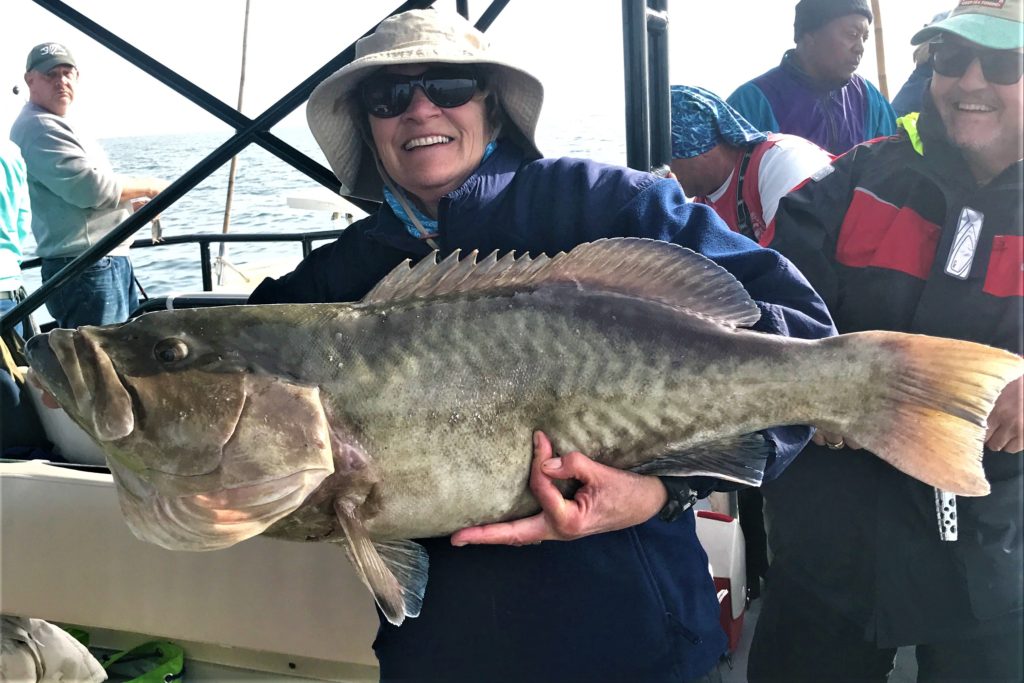 Offshore – The weather has not lent itself to great offshore fishing this past week, we haven't been deep in a while due to the weather. However, we did have a 12 hour extreme make it out this past Wednesday and they tore the gags up, but they didn't go super deep they went to a long distance gag golden ground!  They had nearly a boat limit of keeper gag grouper with one pushing 30+ inches in the 15-18lb range. Book a 12 hour extreme for next week to take advantage of the HOT gag grouper bite we have found and dialed in on, we could be adding a SPECIAL 12 hour extreme in for this coming up Tuesday if the Wednesday extreme fills up because the weather is PERFECT this coming mid-week timeframe for big gag grouper hunting! Looking forward to getting some more big gags on the extreme trips before the end of gag grouper season, book now (727)393-1947 or book online – https://hubbardsmarina.com/fishing-trip-reservations/
Want to watch Capt Dylan Hubbard's Daily video reports? Check out the Hubbard's Marina YouTube channel and don't forget to SUBSCRIBE! – Hubbard's Marina daily fishing & boating report
Upcoming up at Hubbard's Marina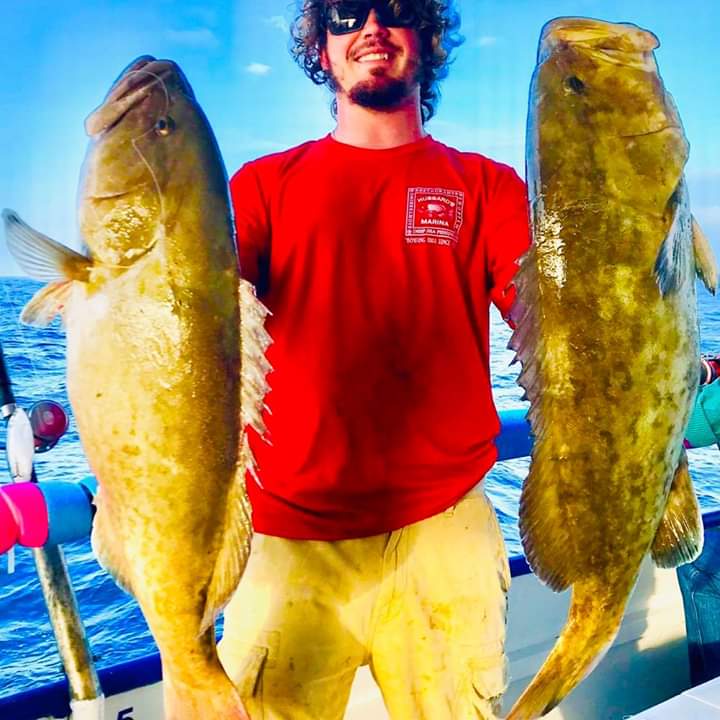 Red tide is gone and we are FINALLY starting to get live bait again! BOOK YOUR GAG GROUPER TRIPS today before they close December 31st!
2019 SPECIALTY TRIP SCHEDULE OPEN FOR BOOKINGS! Book your 2019 10,12, 39 or 44 hour trip TODAY while there's still tons of open room, these trips will fill quickly so book NOW. Last year red snapper trips were filled up by end of January, so don't miss your chance at securing your favorite trip TODAY. Here's the link for all your 2019 bookings – https://hubbardsmarina.com/specialty-fishing-trip/
LAST DAY FOR HOLIDAY DEALS IS TOMORROW!  12/15/18 GET YOUR 20% OFF GIFT CARDS OR 25% OFF COSTA SUNGLASSES OR 50% OFF PENN ROD AND REEL COMBOS & MORE BELOW:
https://HubbardsMarina.com/Holiday-specials – click this link FOR ALL THE DEALS!
20% OFF GIFT CERTIFICATES (LIMIT $1,000 – VALID FOR ONLY 12 MONTHS FROM PURCHASE)
WILLIAMSON JIGS- $5 EACH (REG. $10)
CALCUTTA CANVAS TACKLEBOX-$20 EACH (REG. $40)
PLANO TACKLEBOXES- $5-$20 ASSORTED SIZES
FROSTY TOWELS- $5 EACH (REG. $10)
FOOD SAVERS- $75 EACH (REG. $100)
COSTAS- STRAIGHT 25% OFF (NOT IN ADDITION TO ANY OTHER DISCOUNT)
PENN COMBOS- STRAIGHT 50% OFF ALL PENN COMBOS (NOT IN ADDITION TO ANY OTHER DISCOUNT)
SOUVENIR ANIMAL TOPPER CUPS- $8 EACH (REG. $12)
JEROS PLIERS $5 (REG. $10)
SEA FEAR, GILLZ, SKIFF LIFE, REELAXED PERFORMANCE SHIRTS- FLAT $20
Want to learn more about fishing locally? Don't forget we have the Weekly fishing conversation or seminar by Capt Dylan Hubbard LIVE on the Hubbard's Marina Facebook page if you don't want to leave your house to catch a seminar! We also then upload this video to the Hubbard's Marina YouTube page shortly after the live video is over. This is weekly on Sunday nights from 8:30pm until 9:30pm, check out the event page and PLEASE LIKE AND SHARE the event if you have a Facebook page, and invite your friends as well! Here's the page to find the facebook event link, and view all the past LIVE Q&A fishing shows –  https://hubbardsmarina.com/past-qanda-live-streams/

Want some FREE fishing trips with us at Hubbard's Marina? Want to learn more about near shore and offshore fishing? Check out the upcoming Bass pro shops fishing seminar with Capt Dylan Hubbard at the Tampa bass pro location. The next seminar will be Saturday January 12th at 2pm. The fishing seminar or fishing conversation will be about an hour long of fishing conversation, tips, tricks and more! Plus, at the end of each seminar Capt Dylan gives away a FREE 10 hour all day for two guests and a FREE 5 hour half day for two guests to two lucky winners of the FREE raffle. To be entered in the raffle you just have to show up around 2pm and stay for the hour seminar. Check out the facebook event for this upcoming seminar here – https://hubbardsmarina.com/bass-pro-fishing-seminars/ You can also view all the past bass pro shops seminars at this page too!
Don't forget about your Hubbard's Marina gift certificates for Christmas, if you're looking for a great present for the fisherman, dolphin cruiser, island lover of sunset enthusiast in your family the Hubbard's Marina gift certificate makes a killer gift for your friends, family and loved ones! Check out our gift certificate purchase link right here, you can send them to yourself and print them out for a gift at Christmas or you can email it to them directly it's up to you! Here's the link to buy your certificate today: https://hubbardsmarina.com/gift-certificates/
Captain Jack's dolphin corner
Great time of year to join us for a dolphin watching nature cruise and eco tour, behind the fronts we have very active large groups of dolphins chasing the mullet schools flushing out of the pass into the Gulf of Mexico. These dolphins are actively feeding and spend plenty of time on the surface. Sometimes you can even get lucky and see them playing 'catch' with the mullet to teach the young juvenile dolphins how to hunt and use their sonar to catch these now stunned mullet when they get tossed back and forth. Here's all the information on our dolphin watching nature cruise and eco tour – https://hubbardsmarina.com/dolphin-watching-cruises/
Also, our sunset cruise with FREE beer and wine has been often spotting dolphins along the beaches feeding on the mullet so it's a beautiful time of year for a relaxing and fun 'party' cruise during the sunset tour at Hubbard's Marina. To learn more about the fun filled sunset cruise with free beer and wine check out this link – https://hubbardsmarina.com/sunset-cruise/
Were also spotting lots of bald eagles in the area right now too. Since the weather is cold up north these beautiful large birds of prey head south to hangout in our area for the winter.
We are also spotting lots of manatees lately as they exit the passes and cruise the beaches up north to the Homosassa and Ocala area to hangout in the springs and stay warm in the regulated springs which stay 72 degrees all year long!
Hubbard's Marina Sea Adventures and Tampa Bay ferry are both proudly power by Honda Marine! If you come visit us for a dolphin tour, sunset cruise, Egmont key island trip, snorkeling, shelling, water taxi ride or any type of ferry or pleasure cruise trip then you will be riding a boat powered by Honda Marine! These new motors look great, are super quiet and are great on fuel economy! It was tough to get four boats re-powered with new engines but it was well worth the change and were very happy! Hope you get a chance to see these brand new super cool engines at work on board one of our pleasure cruise and ferry boats! To learn more about Honda Marine engines for your boat, check out their website: https://marine.honda.com/ they have the best warranty in the industry right now, you get a full 5 years and you just can't beat that!
Tampa bay ferry News
The shell key ferry has been spotting lots of manatees around shell key and bunces pass lately while cruising to and from the island. This island ferry ride is a great way to experience shell key and offers tons of flexibility on how long or how short you want to spend time on the island shelling, swimming and exploring this pristine island paradise! For more info on how you can join us for a ride to shell key aboard the shell key ferry by Tampa bay ferry and Hubbard's Marina check out this page – https://hubbardsmarina.com/shell-key-ferry/
We have had some great shelling lately out at Shell key and Egmont key and next week behind the strong front Tuesday the shelling and sharks teeth hunting should be STELLAR, if you want a chance to take advantage of all the great shelling to be had behind the front I would shoot to join the Egmont key ferry or Shell key ferry tours Thursday or Friday of next week behind the mid-week weather. That front will push tons of fresh shells and such onto our local beaches making it a great time to get out to the island and it will be nice and cool and mostly bug free thanks to the cooler temps.
Don't forget to check out the BRAND NEW shell key ferry from Fort De Soto County Park out to the beautiful shell key preserve! This is a great way to see the island, go shelling and enjoy a day on the water with a flexible schedule. For more info on this new ferry route check out this link to the Tampa bay ferry shell key page – http://tampabayferry.com/shell-key-ferry/route-and-schedule/
The Egmont key ferry is running daily as well with multiple rides out to the island from Fort De Soto's bay pier. Tuesday, Thursday and Saturday there's an afternoon ferry option too instead of just mid-morning. Check out the website for ferry prices and times. Plus, while on the island they offer a snorkeling trip too!
https://hubbardsmarina.com/egmont-key-ferry-cruise/

Regular's club
We have finished 2019 regular's club renewals and we are starting on signing up NEW MEMBERS, if you are interested in becoming a 2019 regular's club loyalty program member please reach out to Capt. Dylan Hubbard by sending him your name and cell number via email to [email protected]. He will be in touch in the coming few weeks about the loyalty program that offers discounted trips if you fish more than 10,15 or 20 times a year with us at Hubbard's Marina. It also comes with some free gifts and other benefits too besides discounted trips, but it's NOT simply a discount program. It's a loyalty program and it requires fishing often and being a model Hubbard's Marina guest and showing the passion shared by all of us at Hubbard's Marina for fishing and our fellow anglers.
Captain Dylan Hubbard
Vice president and Co-Owner
(727)393-1947 ext. 306
UPDATED Coupon information
LAST CHANCE FOR THE Holiday specials! Including half off penn rod and reel combos in the shop and 20% off gift certificates and TONS MORE GREAT DEALS, but you must see them all at this page NOW – https://HubbardsMarina.com/Holiday-specials
DEALS START ON BLACK FRIDAY and continue through TOMORROW Dec 15th 2018 so take advantage of it early and often and be sure to visit the page above for all the details and coupon code to get 20% off a gift certificate online, or view all the great deals in our shop too!