5 Hour Half Day/Night Fishing Charter
Have you ever wanted to try offshore fishing before? If so, you should really join Hubbard's Marina for a fun filled day on the water aboard one of our 5 hour fishing trips that are fun for the whole family! This trip is our shortest party boat offering closest to shore. Most days when the air is clear you are able to see shore throughout the entire trip. We typically fish about nine to twelve miles offshore in thirty to fifty foot of water targeting grey snapper, porgies, black sea bass and you even have a chance for some hogfish if you use the live bait options. Keeper sized grouper are few and far between and pretty much unrealistic to catch on the half day since were so shallow and close to shore. If grouper is your target species, you should try our longer 10 hour all day fishing trip or do one of our unique private charters.
These five hour half day party boat trips are for any sized group from one or as many as sixty five to seventy. However, we never overfill our trips since our boats are both licensed for over a hundred and ten people plus and we only allow up to seventy. Most days throughout most of the year were only about forty to fifty percent filled, but if you are joining us during spring break, a holiday season, or peak season in the summer then our weekend morning trips become more and more filled. If we get up to fifty percent capacity on a morning half day then that triggers us to open an afternoon half day. This means that afternoon trips are overflow trips so you will not have the option to do the afternoon unless it's a busier time of year and the morning boat is filling up to at least half full or more. The reason we do this is to ensure all our trips have enough people to go out and we really try to avoid canceling the trips the night before on our guests. We realize most of you are on vacation so we do everything in our power to make it an easy, fun and relaxing day on the water that is fun for the whole family!
The half night trip happens late spring until early fall and it is typically offered only on Saturday nights as an overflow for the morning and afternoon trips, or in the special case that we have a special private charter that does not allow us to offer a morning or afternoon fishing trip.
Before you leave on your fun filled near shore deep sea fishing trip at Hubbard's Marina we will do a short seminar for you in our waiting area 30 minutes before you depart on the fishing trip. This short seminar covers the boarding process, USCG federally mandated bag check process, our company policies that our also laid out on the FAQs page, plus we go over some of the extras like the option to pick up the live shrimp, fishing towels to keep your hands clean, gloves to help you hold the fish for plenty of souvenir photos, and we also have the option to pick up double rigs when available. These extra options are available right after the seminar and we do recommend cash for the seminar extras and for anything you want to purchase on the boat while offshore.
The boat has a full galley where you have hot coffee, cold sodas, plenty of water, cold beer, and tons of hot food options. The galley on board is cash only, but we do have an ATM at the front of our office for your convenience. Also, we offer you the option to grab a meal plan with your reservation. If you get the meal plan you get lots of food and drink included, plus free water the entire trip and happy hour beer prices just check out the options and price on that below.
Please read below for more specifics on this half day fishing trip, and watch the 5 hour half day video to the side of this page to see what you can expect to catch!
Half day fishing trip schedule:
8am morning half day (daily all year) 8am-1pm
1pm afternoon half day March- August 1p-6p
7pm half night trip – April – August (sat only) 7p-midnight (catches same fish as day time 5hr)
**We STRONGLY recommend reservations ASAP once you know what day and how many people you have going out on the trip. Keep in mind all trips are weather based so if there is bad weather we may have to cancel. If we are expecting bad weather we will over-communicate with emails, weather reports at check in and weather reports reiterated in pre boarding seminar. Also, all trips require a minimum number of passengers in order for trip to sail. Occasionally, we have to cancel a trip due to lack of interest, but this is not common in spring and summer mostly a fall and winter occurrence when it's more common to be 20-50% full while spring and summer it's more common to be 75-100% full in the morning trip and 50-75% full in the afternoon trip. However, don't count on these averages again we strongly encourage advance reservations to ensure you don't show up for a sold out or canceled or privately chartered trip**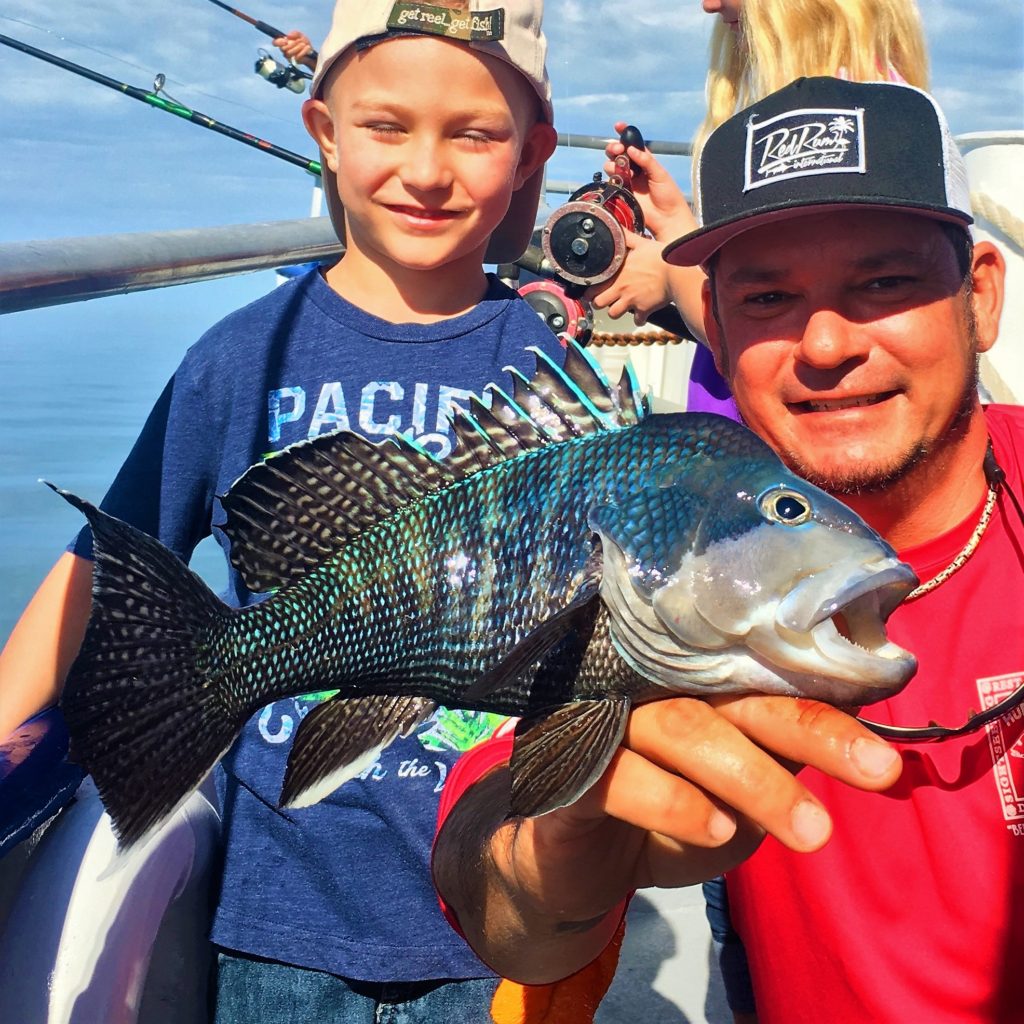 Price of the trip:
$55 + tax for adults
$27.50 + tax for Kids 11 and under
Rod and reel rental option is $7.50 + tax (more info below)
Meal package option $12.43 (more info below)
Fish cleaning option is three fish for one dollar or you can fillet em yourself at your own risk.
Average Cruising time:
Approximately an hour ride out, then an hour ride back and approximately three hours of fishing time
Distance:
We cruise approximately 9-12 miles from Johns Pass, sometimes it's a little more sometimes a little less but this is the average distance of our 5 hour half day fishing trips. You could be 12 miles from Johns pass but still fairly close to shore for example. We fish where we feel the fish are biting best, and we work hard to find cooperative fish and provide the best quality experience possible so we don't want to limit ourselves to a specific area. However, on average it's approximately 9-12 miles from Johns Pass on these 5 hour half day deep sea fishing trips at Hubbard's Marina.
Depth of water fished:
We typically fish approximately 30-50 foot of water on our 5 hour half day or half night fishing trips out of Johns Pass at Hubbard's Marina. However, sometimes the fish maybe biting better around 25-30 foot and sometimes its better a little deeper and it maybe a little more than 50 foot deep and a little longer ride out. However, again we will work very hard to put you on cooperative fish and ensure the highest quality fishing experience.
Basic tips and tricks for your 5 hour half day:
-You MUST keep your thumb on the spool when letting your line down to the bottom with a conventional reel
– we are bottom fishing, these fish live on the bottom, eat on the bottom and feed on the bottom so you must keep your lead on the bottom to catch fish
– the best way to catch tons of fish is to hold bottom naturally, meaning learning to keep the line tight enough to feel the lead but not tight enough to disturb the lead on the bottom. This allows the most possible sensitivity and ensures your lead isn't moving around on the bottom causing puffs of sand and an unnatural presentation
– hook your bait so the barb of the hook is exposed, meaning make sure the hook goes all the way through the bait
– Ask questions! The crew and captains are there to help and make your trip safe, fun and memorable to use their expertise to your benefit
**the crew will offer a fishing seminar on the ride out to go over lots of these tips and tricks and tell you more about the trip and what to do to ensure your catch the most possible fish. Plus, the captain and the crew will be doing laps throughout the trip to help you to catch the most possible fish while having a great and safe time doing it!
Food and drink options:
You have THREE options here, you can bring your own food and drink on board, you could buy food and drinks a la carte in the galley for cash only, or you can purchase a meal package for around $12 and change. The meal package includes: Hot cooked to order sandwich, two sodas, two bags of chips, candy or granola bar, unlimited free water and unlimited free coffee PLUS a dollar off every beer you drink during the trip too! However, you are welcome to bring your own food and drink on board in a cooler 48 quarts or less.
Galley will have breakfast sandwiches, hamburgers, cheeseburgers, chips, candy bars, granola bars, snack crackers, water, soda, beer, coffee and more available in the meal package or for cash only during the trip. We will have a helpful galley chef on board to assist you with whatever you may want to purchase, eat or order as a part of your meal package during the trip.
What type of fish we catch (in order of common to least common):
-Grey snapper or Key west grunts – great eating fish, very white meat
-Porgies – also great eating, mild taste white flakey meat
-Black seabass – awesome fish to eat
-Hogfish – BEST eating fish, but hard to catch takes some serious skill or a lot of luck – LOVE shrimp or fiddlers – fight hard and can get very large
-Mangrove snapper – awesome tasting fish, super smart fish fairly rarely caught on these shorter trips
**Mackerel & Kingfish possible in spring and fall during their runs when water temps and weather cooperate – typically we get these guys while trolling out or trolling in or occasionally on our flat lines that the mates and captains maintain. You can troll in or out if you have the appropriate tackle (see trolling section on the FAQs Page or you can flat line if you talk to the crew and have the appropriate tackle and weather and fishing conditions
What you can expect your catch to be:
We primarily catch the grey snapper, porgies and seabass which are smaller but great eating fish. This is our shortest trip closest to shore we offer here at Hubbard's Marina so you shouldn't expect trophy sized fish. However, they provide lots of action and this trip is fun for the whole family and any level experience angler and these fish are awesome to take back and cook up fresh at the restaurant next door or at home.  Plus, while offshore with us on our 5 hour half day you have a shot at a few hogs and maybe some mangroves. The right time of year we can see some nice handfuls of mackerel and a couple nice kingfish or king mackerel.
More experience anglers have a better shot at the hogfish and catching a pile of fish, but even the most inexperience first time anglers have a great shot at a few or more of the great eating fun to catch fish listed above. Typical angler on a typical day could expect right around a half dozen smaller but great eating fish in the 1-2lb range with more fish caught and released that weren't as good eating. Some days are better than others and some days are slower than others but we work really hard to be transparent, open and honest and communicate with you before you leave, while on board and on the way back to explain what you can do to maximize your success while on the water with us during your 5 hour half day fishing trip
Bait:
Cut Squid provided on board, this is included in your ticket price of the fishing trip. We pass this out on the way offshore and there's plenty on board so if you run out we'd bring you more at no extra charge.
Before leaving, there are some live bait options. You can purchase either live shrimp or live fiddler crabs before leaving and pick up on the way to the boat, or you can purchase them at the time of reservation and again pick them up on the way to the boat. Once on board, the only bait option is the included dead bait which is the cut squid so make sure to purchase live bait before leaving if you'd like it and don't forget to pick it up on the way to the boat if you purchase it.
Shrimp or fiddler crabs are a great extra option, however, it is not needed. The dead bait we provide, the cut squid, works very well that's why we provide it. Also the squid is very forgiving it's hard for the fish to pull off the hook while the shrimp and fiddler crabs will fall off the hook at the first nibble. The extra live bait does give you the chances at a wider variety of species able to be caught though. For example, the squid we provide works well for the grey snapper or key west grunts we primarily catch, but the shrimp and fiddlers will give you a chance at the hogfish, lanes or mangroves that won't bite the squid as quickly or at all. However, the grey snapper or key west grunts are the main staple of these shorter half day fishing trips and will be the most commonly caught and targeted fish.
Shrimp and Fiddler crabs are the same price, $4 per dozen or you can get 2 dozen in a souvenir bait bucket for $10 or 5 dozen in a souvenir bait bucket for $20. Remember, you must purchase and pick these up before boarding the boat. Once on board, the shrimp bucket would go in the live well on the ride out (remember your bucket number and what live well it's in) then you'd retrieve the bucket when your ready to use them for bait and return the bucket occasionally to get them fresh water to keep them alive. The Fiddler Crabs come without water, they do not need anything you can keep their bucket at your feet under the bench for the entire trip and they are happy. You are more than welcome to take home your bait bucket after the trip or leave it behind on board, up to you!
Tackle:
You have endless options here, but if you're a first time angler or a beginning angler the rod rental we provide works well. If you are a more advanced angler you may want to bring your own tackle (but keep in mind this is our shortest trip closest to shore).
We do offer a rod rental option, if you rent our rod and reel we provide all your tackle. On our 5 hour half day fishing trips the rod rental option is only $7.50 that includes all your tackle for the rod and reel for the entire trip. Our rod and reel rental option works fine for the trip, but its not specialized gear it's meant to last the abuse of daily use and do a little of everything. We will rent you a 4ot conventional reel with a 15-30lb conventional rod that is customized for Hubbard's Marina. We are sponsored by Bass pro shops and our rental rods and reels are all Bass Pro shops gear that we replace regularly and maintain regularly as well. If you ever have an issue, let our crew know and they will address it on the spot. The tackle we provide as part of the rod rental price is 60lb mainline, 40lb leader, 3-4oz lead and 4ot circle hook with a 3-4ft leader. Egg sinker on the mainline, swivel, then leader, then hook.
If you do NOT rent a rod and reel, that is fine, but you must bring your own rod and reel and supply all your own tackle while on the trip. You could bring a 4ot reel and a 15-30lb class conventional rod like we supply or you can bring more specialized tackle too. When Capt Dylan Hubbard goes out fishing on a 5 hour half day he will bring a 4000-5000 series spinning reel with 20-30lb mainline and 30lb floro leader with 4ot hooks and 1-2oz weights with a 4-5ft leader and also a high gear ratio or even two speed 4ot sized reel with 40-50lb mainline and 40lb floro leader and 4ot hooks with 3-4oz weights. The larger reel with heavier weight is the best when the bite is HOT so we can get down fast, hook em' fast and get em up fast to fill a stringer fast while the lighter spinning rod is more fun, provides more sensitivity and more of a challenge. Plus, the spinning rod with lighter tackle is best for hogfish. To learn more about how to catch hogfish, check out the Fishing tips page for tons of tips and tricks to help you increase your chances at catching some hogfish while out fishing with us.
What you CAN'T bring on board the trip:
No firearms, illegal drugs, glass, bananas, or alcohol on our 5 hour half day trips. The Boat is us coast guard inspected that means we cannot allow any firearms brought on board. Also, it's a federally permitted vessel so anything that's considered to be a federally illegal substance cannot be allowed on board. Also, the boat is an aluminum boat so that means no glass since a metal moving boat and glass does not mix. Bananas are bad luck on a fishing boat period, and are in no way acceptable to be brought on board. We cannon unfortunately allow alcohol to be brought on board due to our alcohol license. Just like you can't bring a beer into a bar in florida we cannont allow any alcohol on board the 5 hour half day half night boat due to the alcohol license on board. This is not our rule, it's an ATF rule wherever there's an alcohol license no carry on alcohol is allowed again.
Video showing what you can't bring on board our trips – https://www.youtube.com/watch?v=f-8e0TaH-bY
OTHER HELPFUL INFORMATION:
We strongly recommend you check out our FAQs page if you have any further questions or want to be fully prepared for your fishing adventure with us at Hubbard's Marina: https://hubbardsmarina.com/faqs/
Want a more private experience? We also offer customizable private charter experiences on our large fleet of custom built private charter boats at Hubbard's Marina, plus we can accommodate ANY sized group! So if you'd like to avoid fishing with other groups, check out our private charter options here – https://hubbardsmarina.com/private-charters
We have all the marine weather links on our website for you, so you can check the weather before your trip right here on our site – https://hubbardsmarina.com/weather-links-gulf-beaches/
Also, the weather has a strong impact on our fishing trips here's a helpful video to explain how weather affects our fishing trips – https://www.youtube.com/watch?v=fkO2X7rpBVM
Have a large group? Private charters are a great option for large parties, but if you want to stay on the party boat options we do offer group rates for parties of 10 adults or more or 20 adults or more. Here's more information on our group rates, or you can call our group bookings and private charter specialists at (727)393-1947 ext 410 or visit this link – https://hubbardsmarina.com/group-rates/
Fishing tips page for tons of tricks and tips to make you more successful near shore and offshore fishing – https://hubbardsmarina.com/fishing-tips/Check out our Youtube channel for more helpful tips and tricks, and how to videos – http://Youtube.com/TheHubbardsMarina/videos
Check us out on Facebook to see photos and videos of all our trips and options and don't forget to check in when you arrive for your adventure – http://Facebook.com/HubbardsMarina
Check us out on Instagram to see plenty of photos and videos of all our trips and options and don't forget to use hashtag HubbardsMarina for your photos during your visit! Find us: @HubbardsMarina and don't forget #HubbardsMarina – http://Instagram.com/HubbardsMarina
Need our address? Want a map to find us? Want to send us an email? Check out the CONTACT US page here – https://hubbardsmarina.com/contact/ or call us today (727)393-1947 or BOOK YOUR TRIP NOW on our reservations page – https://hubbardsmarina.com/fishing-trip-reservations/