If you want to spend some time on a beautiful pristine island paradise, the ferry to Egmont key state park from Fort De Soto is a great choice for you and your family for a day of fun in the sun with Hubbard's Marina. Our ferry boat operates from the Fort De Soto bay pier daily in the spring and summer and nearly every day in the fall and winter (check the schedule for exact times and days of availability). The ferry ride to the island is about twenty five to thirty minutes and offers great chances to spot dolphins, sea turtles, and sometimes even manatees! We also often spot sea birds on the ride to and from Egmont Key Island aboard the Tampa bay ferry or our big green boat.
Once on the island, Egmont key offers great shelling, swimming, and exploring opportunities. There is even a large fort on the island named fort Dade. This fort dates back to the Spanish American war era and is spread out along the island's interior. Egmont key is also home to a large population of native gopher tortoise. These large slow moving tortoise are an endangered species so you can't touch them, but they make for great photos as you spot them throughout the islands interior.
Egmont Key is also home to a large nature preserve nearly half of the island is blocked to guests allowing the native seabirds and sea turtles a section of undisturbed beach. This nature preserve area is home to tons of nesting birds and nesting turtles and we cruise around it when you take the snorkeling cruise option.
If you'd like to take a ferry ride to Egmont key with us, pack like your spending the day at the beach bring sunscreen, towels, bathing suits, and sun protective hats, shirts and other gear. Egmont key is a pristine island there isn't a bathroom or any type of shop on the island so make sure to come prepared with a cooler full of water, food and drinks or you can pre purchase a lunch box option for $9.99 when your making your reservation at least 24 hour in advanced. The lunch option includes a sandwich, bag of chips, granola bar, soda, and water!
ATTENTION: Due to the multiple trips that we offer, the boat will not always be present.  While the boat is docked, you will be able to use the bathroom, buy snacks, soda and water from the galley on board.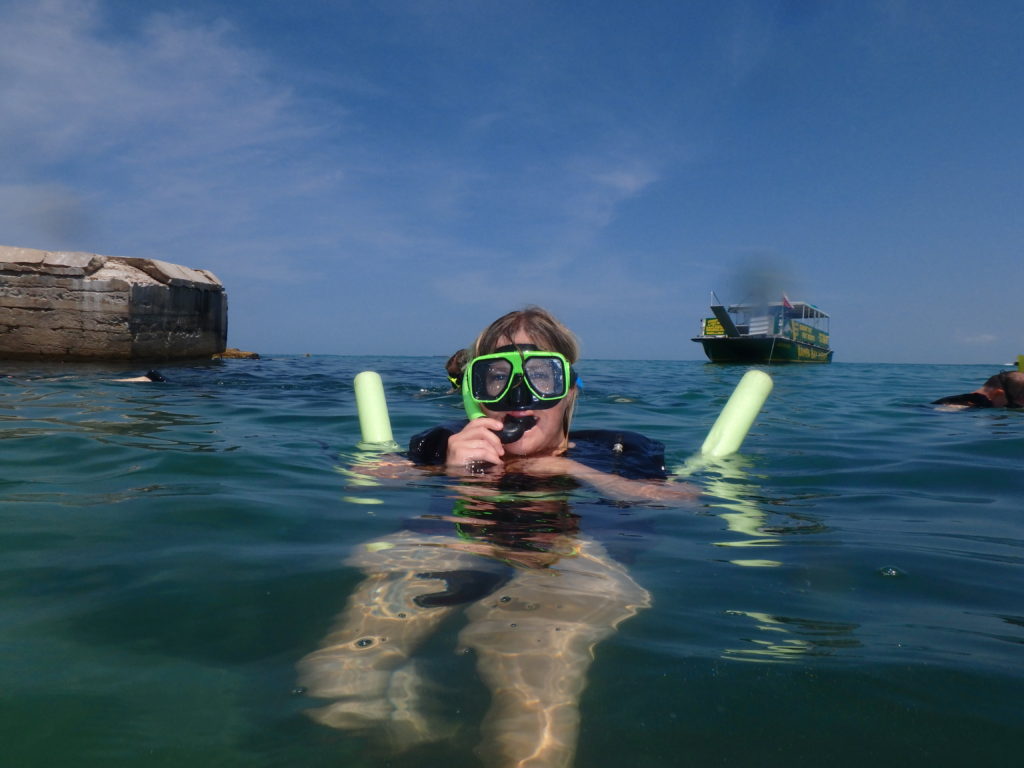 Snorkeling At Egmont Key
The snorkeling cruise is another option while out on the island with us at Hubbard's Marina. The snorkeling option is $15 per person and offers about an hour in the water for confident swimmers. We snorkel the sunken ruins of fort Dade, or the grass flat beds depending the weather and conditions at the island. The snorkeling cruise is first come first serve and you reserve this on your way out to the island on our boat. So if snorkeling is something you really want to do we recommend taking the earlier ferry ride to the island so you will definitely have a chance to get reserved on the snorkeling trip before it fills up to capacity. If you need to rent snorkeling gear (Mask, snorkel and fins) we will provide this to you for a $5 rental fee. This means for a ferry ride to the island, snorkeling and snorkel gear rental the entire trip is only $45 per adult and $32.50 for kids 11 and under since kids are half price or ten dollars on the ferry boat to the island. Kids and adults are all $15 to snorkel since spots are limited on that cruise.
You cannot bring alcohol, glass, pets, kites, or drones to the island because it is a state park and these items are prohibited.
The kits and drones are not allowed due to it being a wildlife preserve.
Ferry from Fort De Soto to Egmont Key
$25 for Adults
$12.50 for Children
For information, call the main office at (727)398-6577
Daily Egmont Key Ferry from Fort DeSoto County Park
US Coast Guard Certified Tour Boats
46 foot ferry

Refreshments/snacks available

Covered, comfortable seating

Open deck area, easy ramp access to beach

Clean restroom, modern snorkeling equipment

All tours fully narrated, informative and fun
"Interested in knowing more about Egmont Key
– read http://www.egmontkey.info
You can make your ferry reservations online or by phone 24 hours in advance or you may show up the day of the trip and reserve your spot at the ticket booth.  Tickets available on a first come first serve basis.
Book Online Now!
Ferry Schedule
Fort DeSoto Ferry to Egmont Key Schedule