Bass Pro Fishing Seminars
Want to win some FREE TRIPS? Join us at bass pro for upcoming seminar!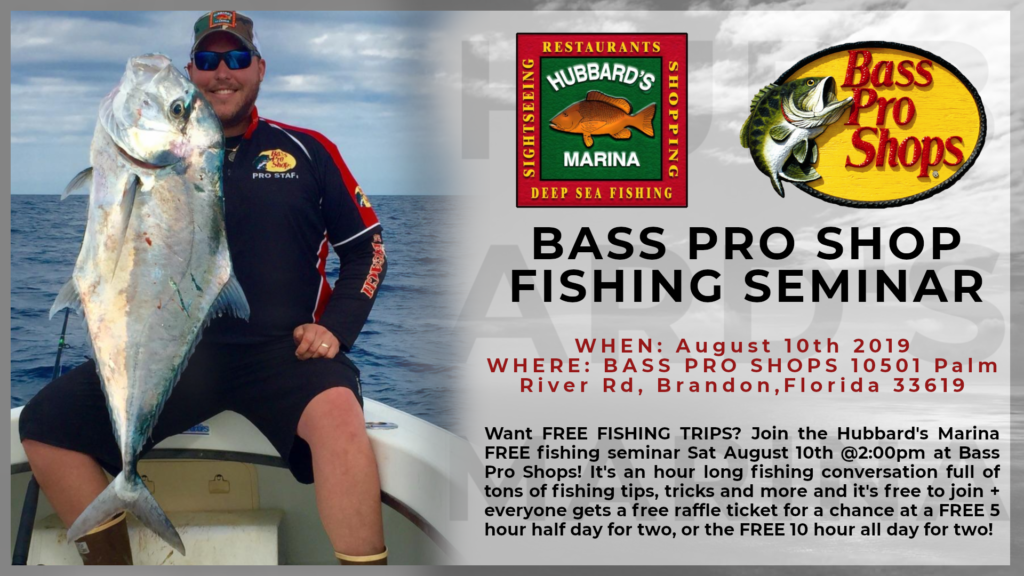 If you can't make a seminar you can always watch them after the seminar on this page!
Want some FREE fishing trips with us at Hubbard's Marina? Want to learn more about nearshore and offshore fishing? Check out the upcoming Bass pro shops fishing seminar with Capt Dylan Hubbard at the Tampa bass pro location. The next seminar will be Saturday August 10th, 2019.  The fishing seminar or fishing conversation will be about an hour long of fishing conversation, tips, tricks and more! Plus, at the end of each seminar Capt Dylan gives away a FREE 10 hour all day for two guests and a FREE 5 hour half day for two guests to two lucky winners of the FREE raffle. To be entered in the raffle you just have to show up around 2:00 pm and stay for the hour seminar.
Directions To Bass Pro Shops Brandon
Bass Pro Shops - near shore and offshore fishing 7/13/19
Bass Pro Shops - near shore and offshore fishing 5/18/19
Bass Pro Shops - near shore and offshore fishing 4/13/19
Bass Pro Shops - near shore and offshore fishing 3/16/19
Bass Pro Shops - near shore and offshore fishing 1/12/19
Bass Pro Shops - near shore and offshore fishing 11/17/18
Bass Pro Shops - near shore and offshore fishing 8/25/18
Bass pro shops near shore and offshore seminar
Heavy tackle vs light tackle difference
Party boat fishing tips and tricks
Near shore and Offshore fishing tips
Near shore and Offshore fishing tips
Bass Pro Shops Seminar - Near shore and Offshore fishing tips 10/20/18
Southshore Anglers Fishing Fishing Club Seminar